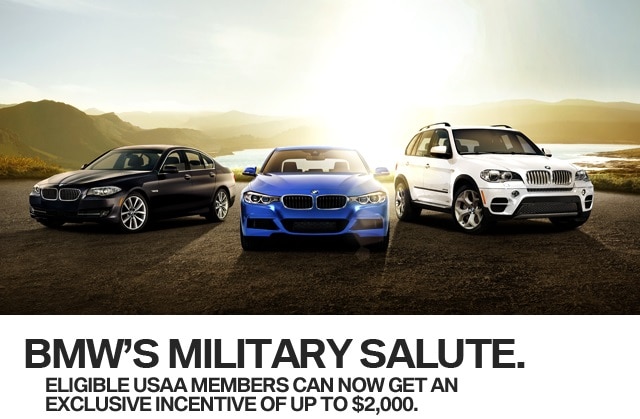 BMW'S Military Salute

Here at BMW we value our military's commitment to protect our freedom. And now, thanks to our relationship with United Services Automobile Association, we're able to show our appreciation with special savings of up to $2,000 for eligible USAA members on the lease or purchase of a new BMW*. For more details, please contact our sales department.


*Program is open to USAA members who are Property & Casualty eligible. Must provide USAA insurance Policy ID card or USAA Confirmation Letter as proof of eligibility. Only eligible on new model year vehicles. Eligible models must be confirmed with your authorized BMW Center and are subject to change without notice. Amount of discount based on vehicle and finance/lease method. Program runs from through year end. Use of the term "member" or " membership" does not convey any legal, eligibility, or ownership rights. USAA means united States Automobile Association and its affiliates.